Dumb O' Brooklyn
Oil on canvas 40"x60"
This painting was inspired by the breathtaking view of the Manhattan Bridge from the Brooklyn side in the area of the city called Dumbo. The title of this painting has a double meaning for me. It refers to the area of the city that the shot is taken from, and it also refers to the fact that this city called my two daughters 2,000 miles away from me! Dumb O' Brooklyn!
Available - $5,000
Closed For The Season
Oil on canvas - 48"x60"
This painting was inspired from the day that my daughter and I went to Coney Island while we were on a trip to look at colleges for her. We showed up on the first day the Cyclone was Closed For The Season. This was a roller coaster that I wanted to ride ever since I saw it in the film This is Cinerama when I was 10 years old.
Available - $5,500
Mr. Bings
Oil on canvas - 40"x30"
I had my sights set on painting this intersection for 20 plus years, ever since I worked in San Francisco in the late eighties. This confluence of life on Columbus Ave. near North Beach, the City Lights bookstore and Broadway was a rich combination of so many different stories imagined. If these sidewalks could talk!
Available - $3,200
Haitian Dream
Oil on Canvas 40" x 30"
This painting is inspired by a photo that a friend took while on a mission trip to Haiti. I was thumbing through his photos when this shot just jumped out at me. Besides the perfect composition and the ideal framing of the shot, my friend single-handedly captured in the eyes of the subjects the harsh reality of struggling to make it in the western hemisphere's poorest country.
Available - $3,200
Molly Moggs
Oil on Canvas 40" x 30"
This painting is a depiction of the "Molly Moggs" nightclub in London Soho. This scene captured the nightlife of SOHO with the electric performance of headliner "Bette Rinse".
Available - $3,200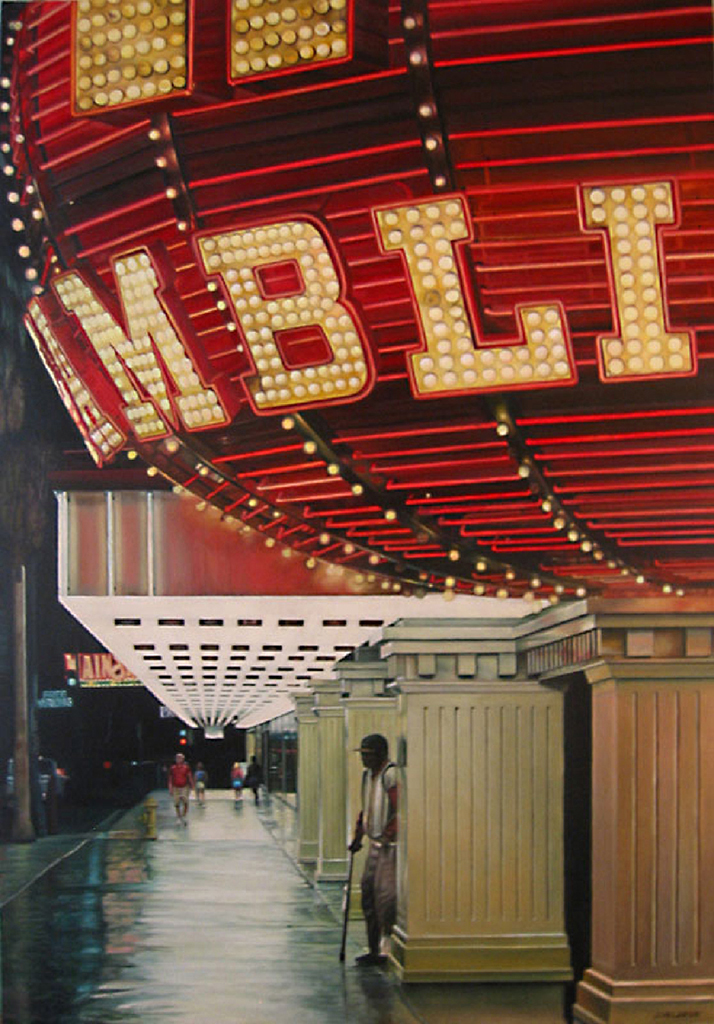 Beneath The Neon
Oil on Canvas 30" x 40"
This painting is set at the entrance to a casino in Las Vegas. This was an ideal scene that I came upon while walking down Fremont Street looking for material. As soon as I framed the shot I knew it would be a painting. The irony of being bathed in the warm glow of neon in the most exciting city and possibly being as isolated, lonely and broke as a person could be.
Available - $3,200
Rue De L' annonciation
Oil on Canvas 36" x 48"
This painting is inspired by a street in the De Passy section of Paris. I had landed in Paris and took a bus to the Arc De Triomphe. Since I didn't speak the language hailing a cab from the Arc De Triomphe to my hotel was too intimidating, so I decided to walk with my bags in tow. Three miles later I showed up here, dropped my bags and took the photo that inspired this painting.
Available - $3,200
Made In The Shade
Oil on Canvas 30" x 40"
While on vacation in San Diego my family had hit the theme park burnout point, so we decided to leave SeaWorld early and head to Mission Beach. On the way to the beach I saw this cool cat catching some shade under a chair on his front patio. He was quite the professional for this shot, and remained undaunted by two adults and four squirrely kids bouncing with excitement to get to the beach.
Available - $3,200
Heartbroken
Oil on Canvas 40" x 30"
This location across the street from the State Capitol in Denver had been in my sights as a subject for a painting for a couple months prior to taking the pictures. Originally I was going to focus on the architecture and the neon sign of this flophouse hotel. On the night that I actually made it down to the "Hotel Newhouse" I happened upon these two tenants who were out front enjoying a nice summer evening on Capitol Hill. Once I got my photos back on this shoot I abandoned the idea of the neon and architecture and instead focused on the imagined hard luck story that was playing out in front of me. Available - $3,200
Yacquina Head Lighthouse
Oil on Canvas 24" x 30"
This painting was inspired by a photo taken by my sister-in-law, that was shot while on a trip to the Oregon coast. Being very skilled with a camera, I felt she captured the perfect composition at the perfect time of the day. This subject was a departure for me, but with all the necessary components that came together so well here I couldn't resist painting the subject.
NFS
20th and Blake
Oil on Canvas 30" x 40"
This is the second painting inspired by the perfect afternoon at the ballpark. This view is exactly one block away from the setting of the first Coors Field painting. (the 21st and Blake entrance can be seen in the lower right) I wanted to capture the feeling of anticipation, joy and perfect escape that walking into the ballpark brings.
Available - $3,200
Millionaires
Oil on Canvas 40" x 30"
San Francisco provided inspiration once again. While walking around the city during a lunch break at a design conference. I came upon this shoe shine stand that was located between the Financial District and Chinatown. I couldn't believe my luck! The light couldn't have been more perfect and the irony of a guy schlepping shoes with an advertisement above him that offers the chance to become a millionaire with an investment of only $29.95. This was one of those rare moments that I knew I had a painting while I was clicking the shutter.
Available - $3,200
The Crepe Cart
Oil on Canvas 40" x 30"
This is the second painting inspired by my trip to Paris. I felt this scene captured a slice of everyday life in the middle of Paris. In the middle of one of the many beautiful parks I found this crepe cart where two brothers waited for a midday treat from their Grandfather while taunting each other with a soccer ball.
Available - $3,200
Mission Beach
Oil on Canvas 36" x 24"
This was the second painting that was inspired by our trip to San Diego. To get this shot I had to stand in the water and shoot back at the beachfront homes along with my daughter Holly sitting on the beach. The composition, the lights and shadow and the solitude of this composition struck me to paint it. This is one of my favorite paintings mainly because my daughter makes it extra special.
NFS
Angels Of Market Street
Oil on Canvas 40" x 30"
The principal figures in this painting were from a photograph I took in the Tenderloin on Market Street in San Francisco. These two young girls tried to let on that they were long hardened by the streets that they were living on. However, after talking to them I could tell that they still had a vulnerability and sweetness that said they hadn't been out there very long. Hence, the name.
NFS
Piccadilly
Oil on Canvas 48" x 36"
London's Piccadilly Circus was a dizzying confluence of traffic, neon, people, and landmarks. It provided the perfect fabric of architecture, diverse people, history, color and energy. Every angle was an inspiring composition rich with a million stories all happening at once.
Available - $3,500
Leo & Paul
Oil on Canvas 40" x 30"
This painting is based on a photograph of my Grandfather and his Brother-in-Law. I loved this photo because I always thought it was a metaphor for the "City Mouse and the Country Mouse". My grandfather grew up on a farm and decided when he was of age to move to the big city and pursue his dreams while his Brother-in-Law stayed in Southern Colorado and worked as a farmer all of his life. I did this painting as a tribute to my Grandfather when he passed away.
NFS
Guarding Gotham
Oil on Canvas 30" x 40"
Las Vegas again provided a point of view that inspired me, as I was walking one of its footbridges from the Tropicana to the MGM Grand. I loved how the MGM Lion was regally overlooking the New York Casino across the street.
Available - $3,200
Palace Pier
Oil on Canvas 40" x 30"
While on a business trip to Brighton, England I got a chance to take in some of the local color. The Palace Pier was a great backdrop of carnival rides, fish and chips, gambling and British on holiday. In spite of the cold chill coming off the English Channel it was a lively, colorful, and gritty place where people were sitting on the beach of small rocks taking in the simple pleasures as a diversion to their everyday lives.
Available - $3,200